Missing Teeth
One of the most frustrating dental issues are missing teeth. At Beverly Restorative and Implant Dentistry Center, we offer permanent solutions for you to become comfortable with your healthy smile. Common causes of missing teeth are trauma due to injury, gum disease, and tooth decay. Some people also suffer missing teeth due to genetics. Whatever the reason, we are fully prepared to help you at BRAIDC.
Bridge
If you have one or two missing teeth, we may use a bridge to replace them. Teeth on both sides of the area are crowned, and then they linked by a pontic. A bridge restores function and leaves a natural look. They are also safe for chewing, brushing, and other normal daily activities. This solution is permanent, as it is cemented into the surrounding teeth.
Dental Implants
A dental implant is essentially a screw. Made of surgical grade titanium, it's built to last and is highly resilient to the daily stress that we often put on our teeth. The screw is inserted into the jaw bone, where it acts as an artificial root. After it is in place, a crown, bridge, or denture can be attached to it. After inserting the dental implant, it's necessary to wait three or four months to attach anything. This is because we want to be sure that the implant settles properly and the surrounding area heals and remains unaffected.  Only when it is fully healed can restoration continue. In comparison to a fixed bridge, dental implants are the more durable solution. A single tooth can be replaced without involving any of the neighboring teeth. Because it is inserted directly into the jaw, it's a reliable and long-term solution.
Before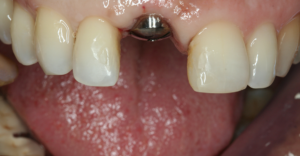 After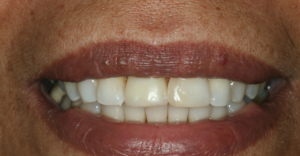 Partial Dentures
If you have several missing teeth, it may be in your best interest to consider partial dentures. They can provide coverage on both top and bottom teeth. They are fitted, and they stay in place with metal or plastic clasps that attach to surrounding teeth. It may take a while for your mouth to adjust to dentures. Over time, your lips, teeth and gums will become accustomed to working together for your dentures. Follow up is necessary to ensure that they fit well.
Full Dentures
Full dentures can replace all of your missing teeth in both the upper and lower jaw. Like partial dentures, it will take time to adjust. Your lips, teeth and gums will work together to increase the dentures stability. Even though dentures are closely fitted to your gums, a dental implant to the jaw bone may be suggested to increase stability.
At BRAIDC, our goal is to help you achieve a happy, healthy smile. Besides the outward appearance of your teeth, their inner health is important as well. Along with our wide range of services available, we offer 24-hour emergency dental services and assure that you will receive top of the line general and cosmetic dentistry. From routine cleanings to restorative treatments, Dr. Lee and his team are here to help you.
To schedule an appointment with our Beverly dentist, please call us at 978-232-9003 or request a dental appointment online.